Shatterproof Stainless Steel
Fits Standard Bottles & Cans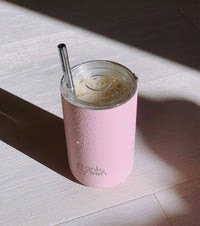 Benefits
The colder drink holder, tougher tumbler, and cocktail cup – all in one!
Includes: 1 x Insulated Drink Holder, 1 x silicone seal, 1 x splash-proof lid, 1 x silver stainless steel straw
frank features
Double-wall vacuum insulated stainless steel
3-in-1 design keeps any drink cold for longer
Use it as a stubby holder (or can cooler), a tumbler, or straw lid cup
Fits most bottles & 375ml cans
Silicone seal locks bottles & cans in place
Extra durable, non-slip grip
Made from premium materials
All parts are recyclable at end of (very long) life
frank tips & tricks
Transforming your 3-in-1 Insulated Drink Holder is as easy as one, two, three!
Drink Holder:
Drop in a bottle or can, add the silicone seal to lock in your drink & keep it extra cold.
Tumbler:
Remove the seal for an insulated tumbler that's cooler & tougher than the rest (literally).
Cocktail Cup:
Add the lid & stainless steel straw for cocktails, cold brew & more (hello frozen margarita season).
Delivery
Shipping costs calculated at checkout. Orders are dispatched same day or next business day. During busy periods allow up to 2 business days for your order to be processed.
Returns
We're happy to facilitate a return or exchange for new, unused products in original packaging. Just make sure you contact us within 14 days of receiving your order. Limited edition collections are not eligible for return or exchange. Please refer to our return policy for detailed information.
Warranty
Enjoy a 12 month warranty period from date of purchase. Damaged reusables can either be repaired, replaced or refunded (whole/partial). The reusable must be returned with proof of purchase. Warranty is void if the reusable has been incorrectly used or cared for.

Cart Empty
Your cart is empty
We think you'll love these
We think you'll love these